Shivani Parasnis:
Photographic Typographic Memory
Memories are a funny thing. They quietly exist in compartments of your brain and spring out to surprise you on a gloomy Thursday afternoon.
They remind you of a different time, make you cry & help you heal, but they also form an unrestrained playground for a lot of us to create work as artists.
"Typographic Memory" is an account of many such curated memories from Shivani's life, that are all tied together through the common thread of, you guessed it right, typography. Her talk will explore the idea of type serving as a means of finding joy in designing everyday things, reconnecting with your roots, building a community, and most importantly, having fun. Through a series of personal and commercial imagery, Shivani will present her diary of thoughts + designs (good & bad, new and old) to share how typography has shaped her practice as a designer through the years.
About Shivani Parasnis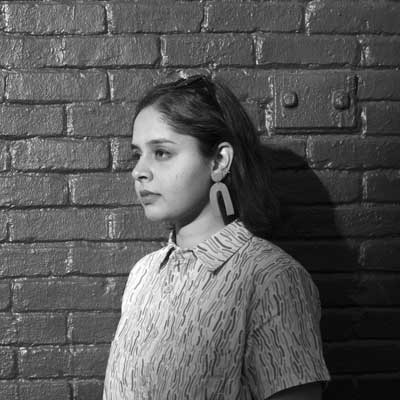 Shivani Parasnis is a typographer and graphic designer from Mumbai, India, currently based out of Baltimore, USA. After making the switch from Biotechnology to Graphic Design in 2018, Parasnis moved to the States to pursue an MFA in Graphic Design at the Maryland Institute College of Art, after over 5 years of working in the biotech and public health sector. Her work is heavily influenced by her physical and emotional environments, and she enjoys melding influences of the East and West in her practice. Her design thinking is grounded in typography, vibrancy and culture. Her projects have been recognized by the Type Directors' Club, Art Directors' Club, The One Club for Creativity, Adobe and AIGA; and featured in numerous publications globally. She's previously worked for clients including the New York Times, WIRED, Adobe, WeTransfer, and many others, and is presently a Senior Designer in the Brand & Creative team at Spotify, NY.